BPS can have a significant impact on patients' quality of life1,2
BPS is a complex condition, making differential diagnosis difficult and time consuming.3
It may take several months, or even years, before a patient receives a diagnosis4,5
The severe pain and urinary frequently associated with BPS can have a significant impact on physical and mental health1,2
Sleep dysfunction, sexual dysfunction, depression and anxiety can all occur as a result of BPS3,6
From the patients' perspective…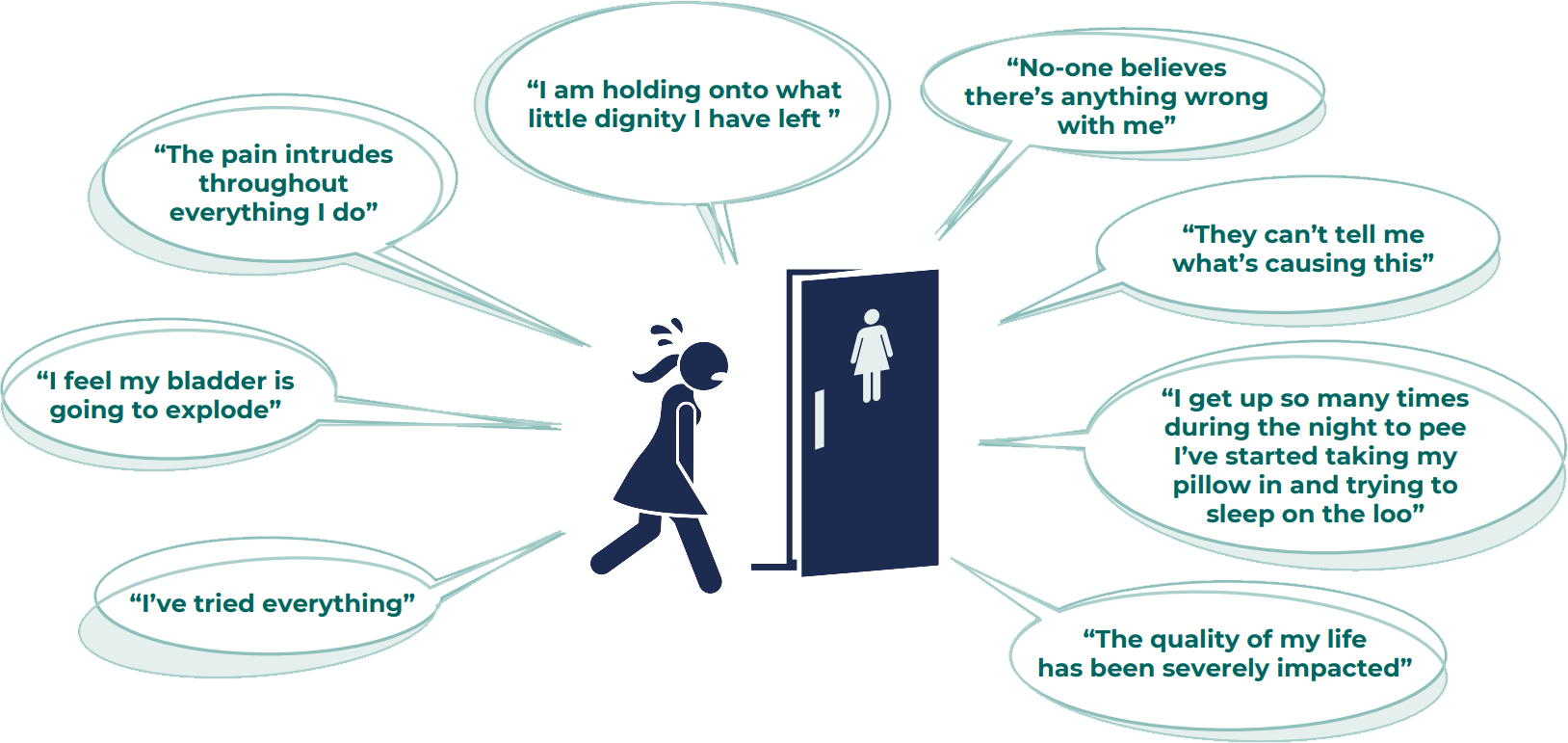 Quotes adapted from www.inspire.com
For more information and educational content on bladder pain syndrome for your patients please click here
References
NICE Pentosan polysulfate sodium for treating bladder pain syndrome. Technology appraisal guidance 610. NICE, 2019.
Available at: www.nice.org.uk/TA610
Scottish Medicines Consortium. Pentosan polysulfate sodium 100mg hard capsules (elmiron®) SMC2194. SMC, 2019.
Available at: www.scottishmedicines.org.uk/medicines-advice/pentosan-polysulfate-sodium-elmiron-full-smc2194/
European Association of Urology. Guidelines on chronic pelvic pain. Available at: https://uroweb.org/guideline/chronic-pelvic-pain/#4
Tincello DG et al. Interstitial cystitis in the UK: results of a questionnaire survey of members of the Interstitial Cystitis Support Group.
Eur J Obstet Gynecol Reprod Biol. 2005; 10; 118(1): 91-5.
Data on file: Malde S et al. Healthcare Resource Use in Patients with Interstitial Cystitis/Bladder Pain Syndrome: a Survey of UK
Patients. Poster presented at BAUS 2019, Glasgow, UK.
Bosch PC & Bosch DC. Rev Urol 2014; 16(2): 83-87.